We're Happy & Proud To Support World Mental Health Day
Posted on: 10 Oct 23
We are delighted to support this year's World Mental Health Day on 10th October.
Taking place every year on 10th October, World Mental Health Day is designed to raise awareness of mental health issues and to encourage individuals in need of help to seek the right support.
What Happens On World Mental Health Day?
The day raises awareness of all that has been done and all that needs to be done to ensure individuals facing mental health issues are fully supported.
It is a day celebration and encouragement – providing individuals with the time to reflect on their mental health and encouraging those in need of support to seek help and professional treatment.
What Can You Do To Mark World Mental Health Day?
You can show your support for World Mental Health Day by allowing yourself time for you – consider your own wellbeing and whether your mental health needs support.
If you need support for any mental health issues you're facing, use this day as an opportunity to get support – you can contact Mind for information and help.
You can also sign the petition calling on the Government to reform the outdated Mental Health Act to give people a greater say in their treatment and improve their rights during hospital stays.
Furthermore, you can donate to or fundraise for Mind, a charity devoted to the fight for mental health.
Nehemiah Is Here To Help
At the core of Nehemiah is the belief that all individuals have the right to live in affordable and comfortable housing, within a community that cares.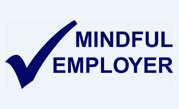 At Nehemiah we have also signed the Mindful Employer Charter, and are pleased to be recognised as a Mindful Employer. We acknowledge that in the UK people experiencing mental ill health continue to report stigma and discrimination at work. Having signed the Charter, we are committed to creating a supportive and open culture, where Nehemiah staff members feel able to talk about mental health confidently and we aspire to appropriately support the mental well-being of all staff. As part of this we have introduced wellness action plans to note personal trigger points, staff members also have support from professional counselling, and we implement a work life balance throughout the organisation.
If you are experiencing a mental health problem, help is available – contact your Housing Officer or call us on 0121 358 0966 or email contact@nehemiah.co.uk and we will do all we can to support and advise you.